Anew Russian military is emerging from the devastated battlefields of Ukraine. On NATO's eastern flank, alliance militaries are now preparing to face a Russian Army that is mangled but more experienced, less sophisticated but more brutal, and mauled but still well-stocked.
Russia's military quagmire in Ukraine has bought NATO time to restock and expand national militaries that for decades have been primarily concerned with low-intensity, far-flung counterinsurgency conflicts.
During the Lennart Meri Conference in Estonia last week, NATO military officials told Newsweek the alliance is not ready to face whatever Russia emerges from its drubbing in Ukraine.
Estonian Defense Minister Hanno Pevkur told Newsweek it will take "some years" for the Russian armed forces to return to their pre-invasion capabilities. "Even losing equipment and men in Ukraine, they still pose a threat for Estonia, and this also means for NATO," Pevkur said in an interview at the Defense Ministry in Tallinn.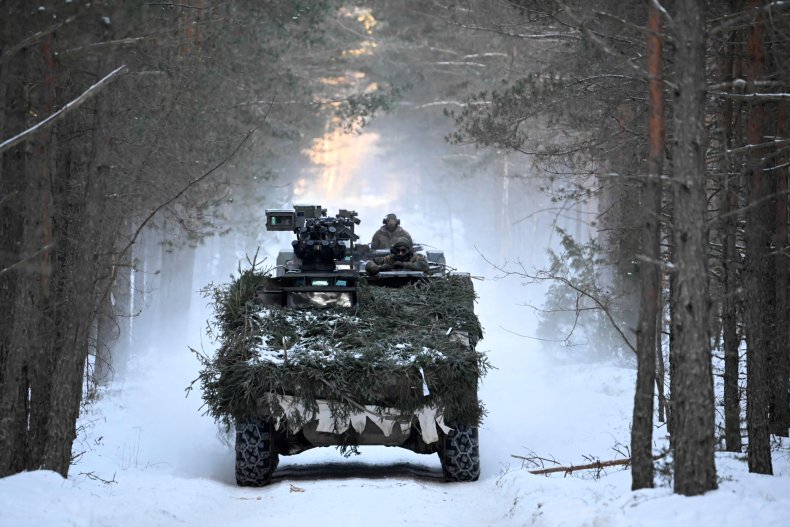 Pevkur and others stressed that Russian losses are disproportionately within the ground forces. Moscow's naval and air power, which includes its long-range missile capabilities, are still in relatively good shape.
"The Russian Navy has not suffered a lot," Pevkur said. "The air force suffered, but not so much also."
"The army, yes," the minister added. "Yes, they have a lack of tanks, but they still have thousands of tanks in their reserves. Okay, they are very old. They can refurbish or renovate one tank from three, and they would still have thousands of tanks.
"This is what we have to understand, that Russia is a threat for NATO, for Estonia, for Latvia, for the eastern flank of NATO. And this is why we have to be prepared as quickly as we can."
The Mauled Bear
Russian personnel and equipment losses in Ukraine appear staggering. Kyiv claims to have "liquidated" 200,000 Russian troops since February 24, 2022, when the Russian invasion began. This meshes with a recent U.S. estimate of 89,500 to 223,000 Russian casualties, including 35,500 to 43,000 killed in action. Moscow is also thought to have lost some 2,000 tanks.
The Kremlin's most elite units led the ill-fated drive on Kyiv in the opening stages of the invasion. Many never returned. Those who did were repeatedly thrown into meatgrinder battles in the eastern Donbas region, or routed in the lighting Ukrainian fall offensive in Kharkiv Oblast. Officials previously told Newsweek that some of Russia's most storied units have taken casualties of 20 to 40 percent.
Peeter Kuimet, the head of the Estonian Defense Ministry's International Co-operation Department, told Newsweek at a press briefing it is "obvious that the cream of the Russian Army—motor rifle groups, their air assault units—has been taking a serious beating in Ukraine."
"Some of the best trained professional soldiers, junior officers, some senior officers, and generals, are dead. You can't reconstitute that same level of quality in a matter of a couple of years. But it doesn't seem to bother the Russians at all if you look how they're continuing to conduct warfare in Ukraine."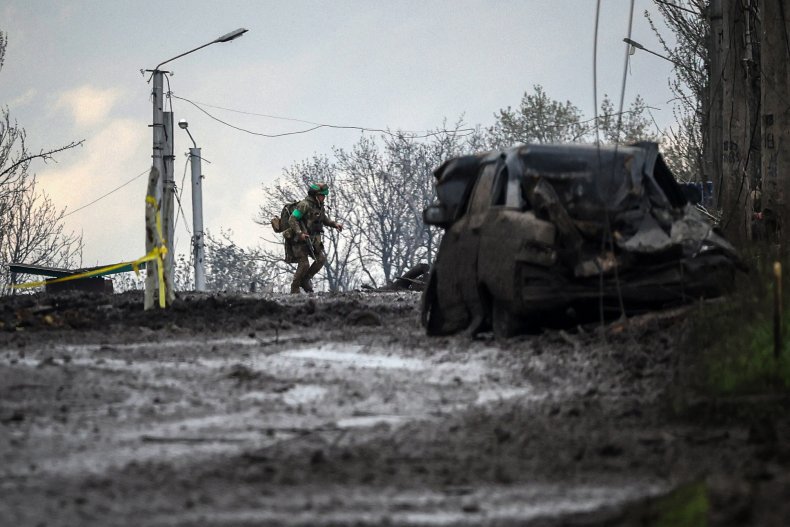 Major General Veiko-Vello Palm, the Estonian Defense Forces division commander, told Newsweek that the formation's "main activity" in recent months "is arranging funerals, which is a very good activity for them."
Still, Palm added: "The situation that we see right now—basically empty garrisons and no meaningful training—can change in weeks."
Moscow's "partial mobilization" of 300,000 troops last September plugged gaping holes in the Russian front. The Kremlin has so far refrained from ordering a full mobilization, despite calls to do so from influential military bloggers.
"Definitely, they have had many defeats in Ukraine, but manpower has never been a question for Russia," Pevkur said. "It doesn't matter if they are losing 100,000, 200,000, or 1 million."
Andrus Merilo, the commander of the 1st Estonian Brigade, told journalists at the Tapa military base—which is home to the NATO multinational battlegroup deployed to the country—that a full mobilization could see Russian strength reconstituted, at least numerically, within two months.
"It will be based on old equipment, but it doesn't matter," Merilo said. "A tank is still a tank, and if you have a large number of those it's going to be a problem. To build up really seriously to the same level as they had before, I think this is more like a two-year perspective."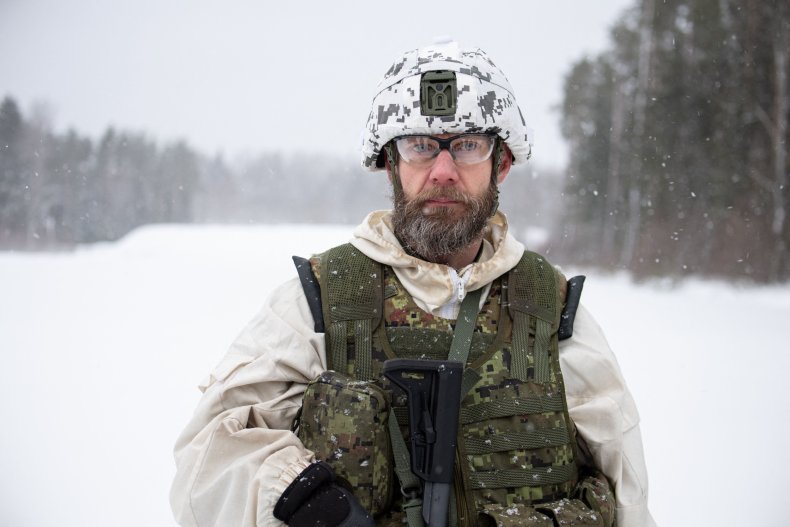 Russia still has plenty of equipment it can use to make trouble for Ukraine and for NATO, Kuimet said. "They have spent a huge amount of precision-guided missile stocks against Ukraine. But as far as we assess it and understand, there are still untouched reserves which they can use, both in Ukraine or reserves that they will retain for a possible conflict with NATO."
"They have shown that they still have a lot of problems in their own system. But they continue to fight and hold over 100,000 square kilometers of Ukrainian territory," he said.
NATO Stocks
The scale of the war in Ukraine has made Western unpreparedness stark. At times, Russian guns have been firing more shells in one day than European nations are collectively able to produce in one month. Ukraine's partners have rushed their own stocks to the front, but now face the difficult challenge of replenishing and expanding them.
Estonian officials are pushing for NATO to upgrade the collective 2 percent of GDP military spending target—a goal the majority of allies are not reaching—to 2.5 percent to reflect what Prime Minister Kaja Kallas called the "new reality" of long-term confrontation with Russia.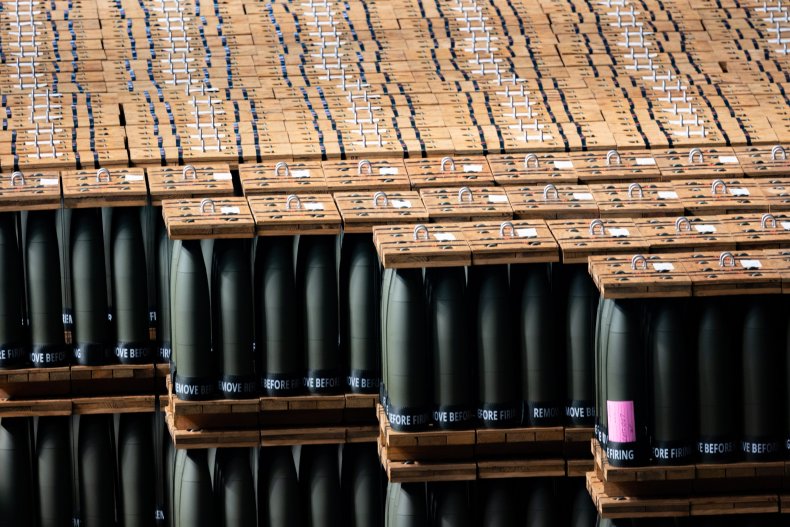 "This calmness of the 1990s, which has been in Europe, has brought us to the situation where we are at the moment," Pevkur said. "We do not have enough ammunition in our stocks, we do not have enough tanks."
"It's not a question of 2 percent or 2.5 percent. It's a question that what we have to do collectively to be ready to deter Russia…It doesn't matter if it's Estonia who says that, or if it's the U.S. who says that. The message is the same: we have to invest more into our defense in order to have our freedoms protected."
"We see how much effort there has to be to push back the Russians if needed," the defense minister said. "This is the reality."
NATO allies are also taking lessons from Ukraine's myriad military successes. Estonia, for example, is doubling the size of its Territorial Defense Forces to 20,000 people—partially inspired by the showing of Kyiv's reservists—and expanding its wartime force to 44,000.
Allies on NATO's eastern flank are modernizing their long-range fires, including with purchases of the U.S.-made High Mobility Artillery Rocket System (HIMARS) that has proved so devastating for the Russians. There is also a new focus on anti-air and anti-missile defense, given Moscow's regular use of long-range strikes against cities.
"For us, it's an existential question," Kuimet said. "Because if you look at how Russia has been conducting warfare in Ukraine over the last year, then it's really terrifying. It's basically a medieval way of waging war."
'We'll Start the Party'
The officials who spoke with Newsweek said there would be few surprises from the Russians. "It's not unknown," Pevkur said about the nature of the threat. "They cannot have something what we don't know [about]."
But it will be somewhat new. "The Russians will learn," the defense minister said. "Probably they will modernize their army. But on the other hand, we understand that the sanctions are working, and the sanctions will put a lot of pressure so that they cannot modernize as quickly as Europe and NATO members can."
"What I see inside of NATO is that there is a clear understanding that Russia poses a threat," Pevkur added.
"It doesn't matter whether the front line is 900 kilometers or nine kilometers. When it's the frontline, then it's the frontline. Even one meter of lost territory is a problem for NATO as an alliance because then we have to admit that Article Five doesn't work. If we want Article Five to work, then we have to protect every inch of NATO territory."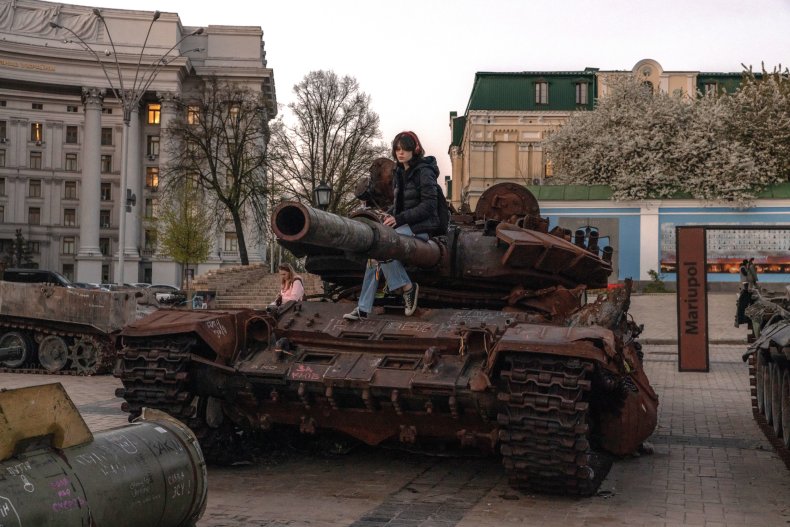 Meanwhile, commanders on the ground continue preparing for a war they hope they will never have to fight. "We have to acknowledge that the performance of Russia has been pretty poor so far," Lieutenant Colonel Stephen Wilson, the commander of The Queen's Royal Hussars which currently constitutes the British contingent of the NATO battlegroup in Estonia, told Newsweek at Tapa.
"But we can't assume that that is the standard," Wilson added. "And at some point, Russia must learn those lessons. So, we have to be prepared for those."
Already, Wilson said, Ukrainian lessons are being reflected in NATO preparation.
"I have noticed a step change in the equipment. In terms of drones and remotely piloted vehicles, my access to them now is significantly increased from what it has been previously," he said.
"When I plan for my battlegroup, I always considered the most likely and the most dangerous. Were we to be defending Estonia or any other NATO action, I think it would be foolish to assume that just because there was poor performance in Ukraine, that's what we might face."
Merilo said future Russian commanders will be imbued with the hard lessons of their war on Ukraine.
"In the near future, the company commanders who have survived the heavy fight against the Ukrainians will have learned lots of lessons," he said. "And in a very short time, they will be battalion and brigade commanders, they'll be much more experienced than we are. They have learned how to close fight through pain, blood, and suffering. But they have learned."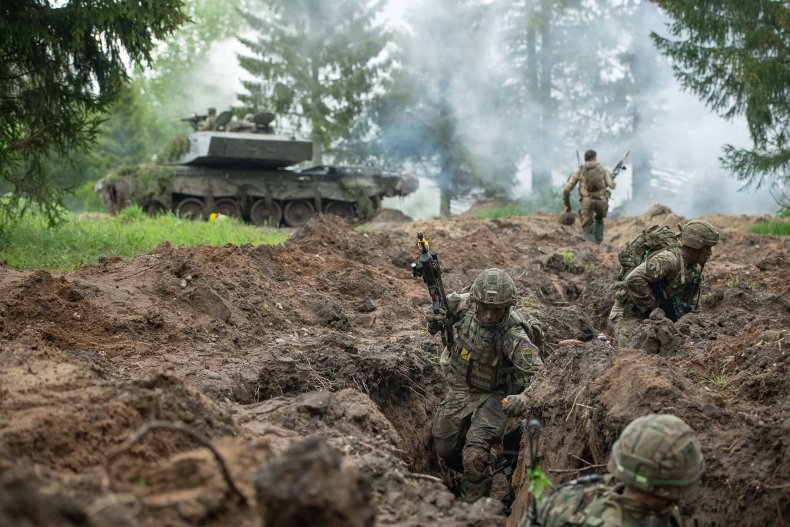 But Palm warned reporters against a false sense of security. "Times are not going to be easier for us in the future. Whatever way the Russian aggression in Ukraine goes, for us it means that the real countdown starts," he said.
"In our military structure, the main word is 'readiness.' If troubles arise, we will not have much warning time…Only the military units that are fully man fully equipped, fully trained and fully stocked are capable of fighting."
"They don't have the ability to overwhelm Europe, or overwhelm the world," Palm said of the Russians. "They don't have the ability to do long-range precision strikes, or do them in a meaningful quantity with quality."
But, he added, the enemy remains "very deadly and devastating in a close fight."
Still, the Estonian commander was bullish. "I'm absolutely confident that if something starts, or Russia wants to make an aggressive move towards Estonia, we are ready," Palm said. "And we'll start the party."