In late October, Egyptians were permitted to do something they had not been allowed to do for years: protest.
The country's authoritarian government does not support the right to freedom of assembly. But around a fortnight ago, Egypt's government, headed by President Abdel Fattah el-Sissi, allowed pro-Palestinian demonstrations to proceed under strict conditions and in certain locations.
Since the October 7 attacks on Israel by the Islamist militant group Hamas in which, according to the country's foreign ministry, around 1,200 Israelis died, Israel has been bombing the Gaza Strip. Over 11,000 Palestinians have been killed, according to Gaza's health authorities, which are run by Hamas.
Some of Egypt's protests were clearly state-sponsored, observers said, noting that demonstrators were bussed in and chanted in support of el-Sissi as well as the Palestinian Territories. But others were more organic — and some of them went rogue.
At one stage, several locals headed for Tahrir Square, the symbolic center of Egypt's 2011 protests, which were part of the so-called "Arab Spring" pro-democracy movement that eventually toppled former Egyptian dictator Hosni Mubarak. While there, chants changed from a Palestinian focus to a refrain often heard in 2011 and directed at the Egyptian authorities: "Bread, freedom, social justice!"
'A gateway into politics'
"The Palestinian cause has always been a politicizing factor for Egyptian youth across generations," said Hossam el-Hamalawy, an Egyptian researcher and activist now living in Germany who writes a regular newsletter on Egyptian politics.
"In fact, for many Egyptian political activists — whether those who led the [2011] revolution or were involved in earlier protests — their gateway into politics was the Palestinian cause. The 2011 uprising in Egypt was literally the climax of a process that started with the second Palestinian intifada a decade earlier."
To prevent any more pro-Palestinian protests from becoming anti-government demonstrations, Egyptian authorities have cracked down even harder on dissent, arresting more than 100 people and beefing up security in public squares, el-Hamalawy reported.
The Egyptian government is not the only regime in the region to fear that the Palestinian issue — one that many ordinary people living in the Middle East deeply sympathize with — could threaten the political status quo.
The region's leaders "have always seen the Palestinian cause as a way for people to vent their anger," explained Joost Hiltermann, head of the Middle East and North Africa program at the International Crisis Group, a think tank.
"But it's a double-edged sword. When circumstances in a country are very bad, the protests could well take a domestic turn and become a critique of the ruling regime."
As a result, authoritarian leaders have had to "play a very careful game," Hiltermann told DW, so they don't lose control of the protests while still saying what their citizens want to hear.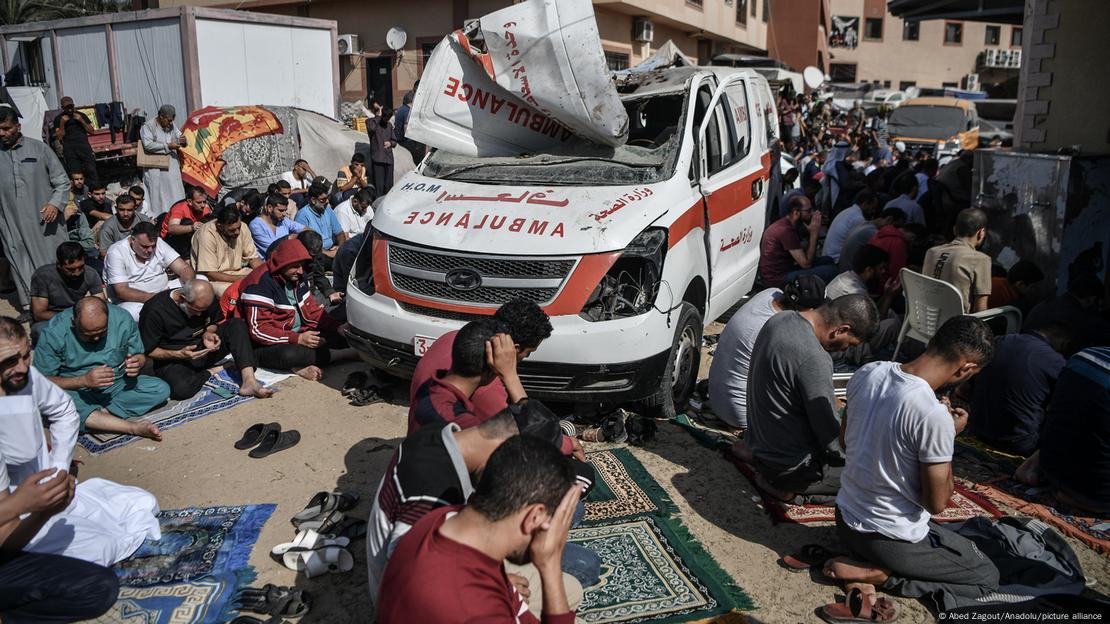 Bahrain's government has also banned protests since 2011 but allowed pro-Palestinian demonstrations to go ahead over the past month. These were bigger than any since Bahrain's own "Arab Spring" protests in 2011, and media reports say some of those participating held signs depicting Bahrain's king holding hands with Israeli leader Benjamin Netanyahu. Riot police were called in to disperse the protests.
In Tunisia, there have also been large pro-Palestinian protests, and Tunisia's increasingly authoritarian leader, Kais Saied, has been visibly treading a fine line on the issue. He has used locals' empathy with Palestinians for his own purposes and potentially to bolster his own popularity.
"Part of Saied's motivation in taking a strident stance and whipping up popular anger may be to deflect attention from the country's dire economic straits," experts at the Crisis Group wrote in a commentary earlier this month.
Initially, Saied came out in support a draft law that made normalizing relations with Israel a criminal offense.
More recently, though, he has backtracked, saying such a law would hurt Tunisia's future economic and diplomacy prospects.
Widespread discontent with leadership
The situation "exposes how weak the Arab regimes are, including Egypt, their inability to influence what's happening, to protect the Palestinians or to pull together a cease-fire," el-Hamalawy said. "And this is triggering widespread discontent. You see it all over social media: People are sharing news from Palestine eagerly, as well as memes, cartoons and jokes that ridicule el-Sissi and other Arab rulers."
But that doesn't mean that pro-Palestinian protests will morph into a new pro-democracy movement, he said. At least, not straight away.
"We're not on the verge of another 2011 because there is a substantial difference between dissidents now and then," el-Hamalawy explained, noting that the el-Sissi government has more or less repressed almost all voices of opposition.
However, there are some small, localized indications of ongoing dissent, el-Hamalawy noted. "So the more this war [in Gaza] drags on, the more likely it is that something might happen."
To avoid that, Middle Eastern nations that have normalized, or planned to normalize, relations with Israel are balancing angry public proclamations on the topic with realpolitik in private.
"In off-the-record conversations… some Arab officials have spoken about Hamas and Gaza in the sort of language one would expect to hear from right-wing Israelis," the Economist, a British magazine, reported. "They harbor no sympathy for an Islamist group backed by Iran. But they dare not repeat such remarks in public."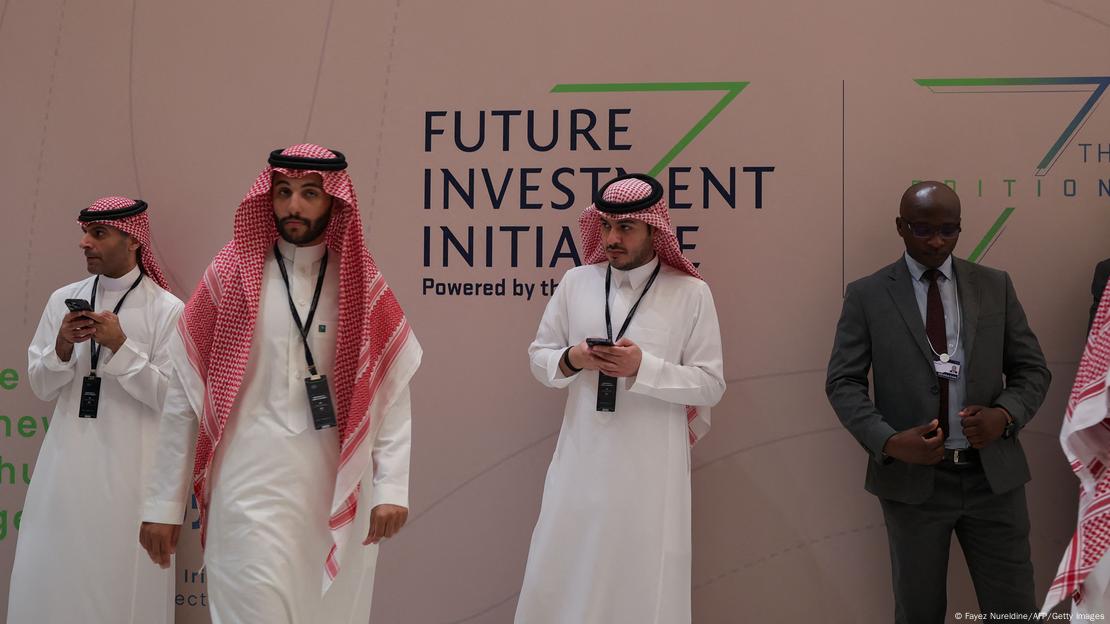 "Today Arab leaders may be willing to speak out for Palestine, but few are ready or capable of walking their talk," Marwan Bishara, a senior political analyst at the Qatar-based media outlet Al Jazeera, wrote in an op-ed at the end of October.
No significant outcome expected
This is also why not much should be expected from the meetings being held in the Middle East this weekend, as longtime observers of the region said.
Saudi Arabia is holding an extraordinary joint Islamic-Arab summit on Saturday. Previously the country had been planning two summits, one of the Arab League and the other of the Organisation of Islamic Cooperation, but combined them "in response to the exceptional circumstances taking place in the Palestinian Gaza Strip," Saudi Arabia said. Iranian President Ebrahim Raisi is expected to attend in his first trip to Saudi Arabia since the two nations severed ties seven years ago.
"But the meetings won't amount to much," Joost Hiltermann told DW. "The regimes want to make sure they are being seen to be doing something, even if they are not doing much."
The Middle East's authoritarians may put pressure on the US to rein in its Israeli partner, and they may threaten to withdraw, or indeed withdraw, ambassadors, Hiltermann said. "And they want to sound holier than the Pope when it comes to the Palestinian question. But they will not break relationships with Israel that are in their national interests. It's all about paying lip service to the Palestinian cause — as we have seen them do for decades already."
El-Hamalawy agrees, "There will be the usual statements of condemnation, the usual PR. But no, I don't think anything substantial is going to come out of it, let alone anybody declaring war."
Edited by: Davis VanOpdorp
This story was updated on November 11 to reflect Saudi Arabia's announcement that it would hold one summit instead of two in Riyadh
DW