20 December 2017  BBC

Kate Beckinsale, Lysette Anthony and Gwyneth Paltrow are among more than 50 women who have come forward with allegations ranging from rape to sexual harassment by movie mogul Harvey Weinstein.
Together, the claims build up a picture of one of the most powerful men in the industry exerting pressure on younger women at the start of their careers, often in hotel rooms and offices.
He has admitted his behaviour has "caused a lot of pain" but has described many of the allegations against him as "patently false".
His spokesperson has said "any allegations of non-consensual sex are unequivocally denied" and there were "never any acts of retaliation" against women who turned him down.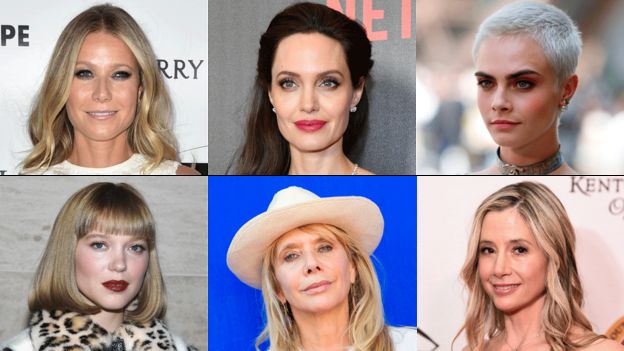 Here are some of those who have made allegations against him.
Daryl Hannah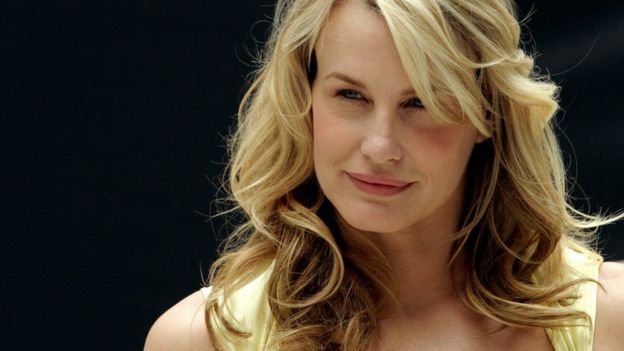 The Splash actress says she repeatedly turned down Weinstein's advances during promotion for Kill Bill and its sequel. He tried, she says, to get into her hotel room on multiple occasions, once getting a key and "burst[ing] in like a raging bull."
He asked to grope her breasts and then asked her to expose herself to him, she alleges. She suffered physical repercussions as her flights were cancelled and she was left stranded in Italy after she turned him down on one occasion, she adds.

Annabella Sciorra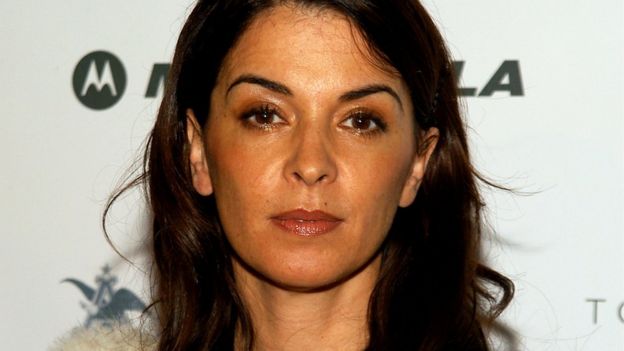 The Emmy-nominated actress from US TV series The Sopranos alleges that Weinstein forced himself into her apartment in New York in 1992 and raped her.
"I was so ashamed of what happened," Sciorra told the New Yorker. "And I fought. I fought. But still I was like, Why did I open that door?"

Mimi Haleyi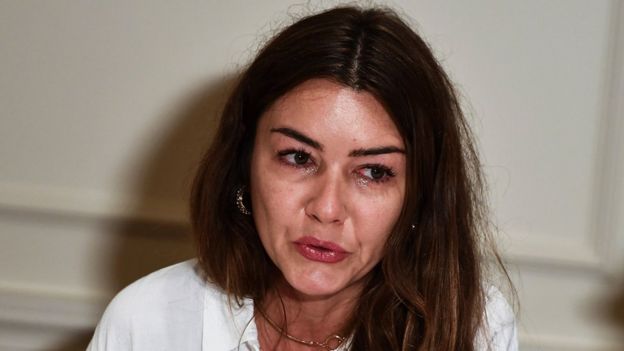 Former production worker Mimi Haleyi alleges that she was raped by Weinstein when he forcibly performed oral sex on her in 2006 in his New York apartment.
"I told him 'no, no, no'. But he insisted," Ms Haleyi told a press conference in New York.

Dominique Huett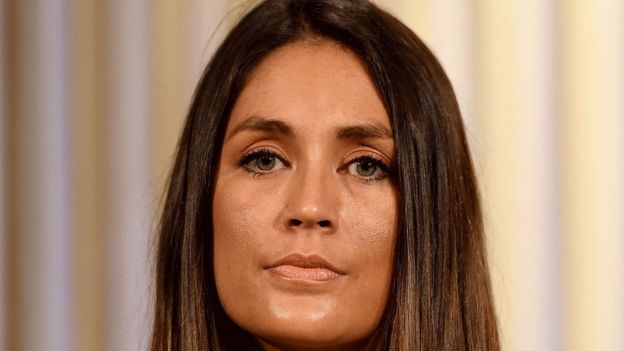 The actress, who also alleges she was raped by Weinstein when he performed oral sex on her without her consent, has filed a negligence case against The Weinstein Company.
It is thought to be the first civil case against the company regarding the recent allegations against the movie mogul.

Natassia Malthe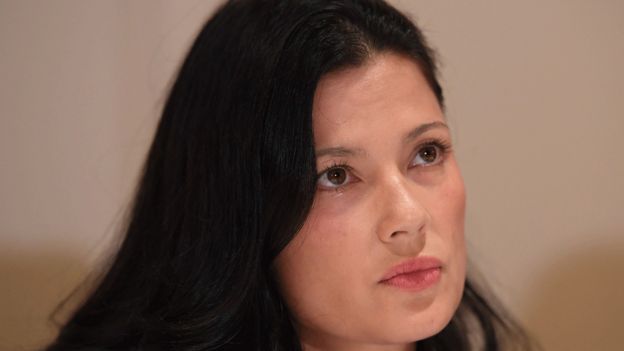 The Norwegian actress accuses Weinstein of raping her in a London hotel after the 2008 Bafta awards ceremony.
She also alleges that, when back in Los Angeles following the Baftas, Weinstein asked her to meet him at a Beverly Hills Hotel where he said an assistant would be present.
Malthe says she then asked her to engage in a threesome with him and another woman.

Brit Marling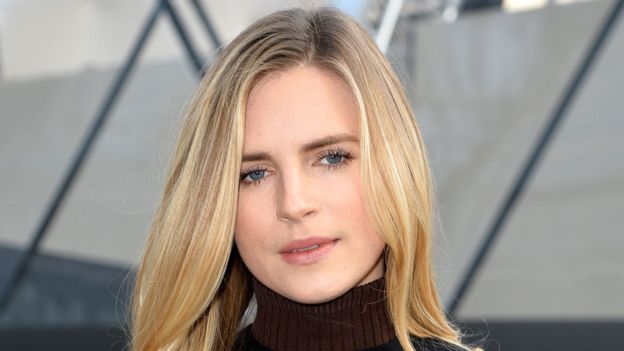 The actress and co-creator of Netflix drama The OA has accused Weinstein of luring her to his hotel room and suggesting they take a shower together.
In an essay for The Atlantic Marling said she was asked to meet him in a hotel bar and describes "thinking that perhaps my entire life was about to change for the better".
A female assistant then told her the meeting had been moved to his suite. Marling says her guard went up immediately and she describes having felt "terror in the pit of my stomach" when she was left alone with him.
"I, too, was asked if I wanted a massage, champagne, strawberries," she wrote. "I, too, sat in that chair paralyzed by mounting fear when he suggested we shower together. What could I do? How not to offend this man, this gatekeeper, who could anoint or destroy me?"
The actress says that, after realising "it was clear that there was only one direction he wanted this encounter to go in, and that was sex or some version of an erotic exchange", she managed to get out of the room.
The 35-year-old says she "later sat in [her] hotel room alone and wept."
Salma Hayek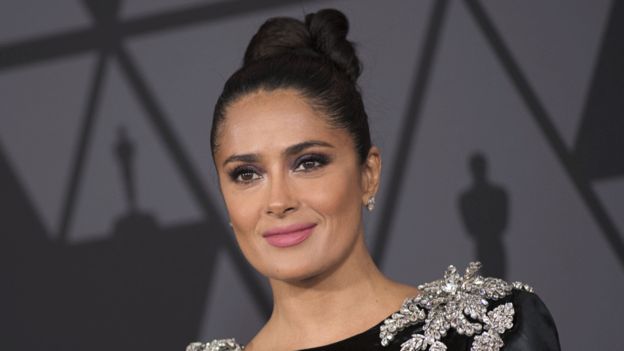 The Frida actress said Weinstein sexually harassed and threatened her.
Writing in the New York Times, she said she repeatedly refused his sexual advances.
Hayek said Weinstein once told her: "I will kill you, don't think I can't."
In response, a spokeswoman for Weinstein disputed the account and said "all of the sexual allegations as portrayed by Salma are not accurate".
She went on to accuse him of threatening to shut production of Frida down unless she filmed a nude sex scene with another actress.
The Oscar-winning biopic of Mexican artist Frida Kahlo was released in 2002.

Lupita Nyong'o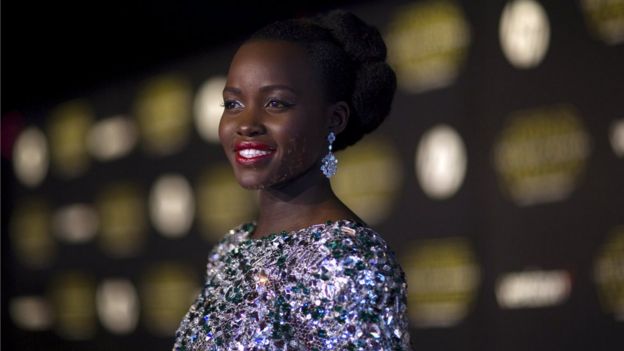 The Oscar-winning star of 12 Years a Slave accuses Harvey Weinstein of luring her to his bedroom under false pretences when she was a drama student.
In a New York Times article, the 34-year-old says she was invited to his family home in Connecticut, apparently to watch a film, shortly after they first met in 2011.
She says he led her into his bedroom and offered her a massage. "I panicked a little and thought quickly to offer to give him one instead," she writes.
"Before long he said he wanted to take off his pants," Nyong'o continues. "I told him not to do that and informed him that it would make me extremely uncomfortable."
The actress says she rebuffed a subsequent advance and that Weinstein admitted he had treated her badly when they met again in 2013.

Lena Headey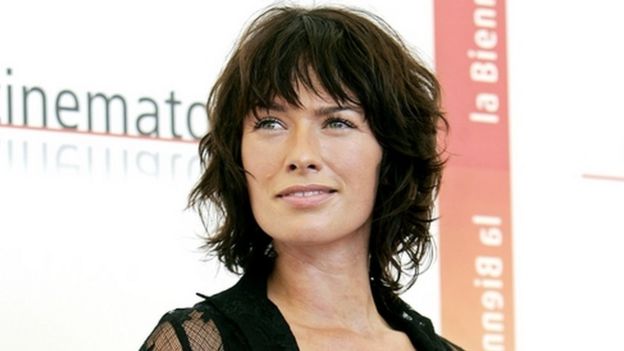 Game of Thrones actress Headey describes an encounter with Harvey Weinstein that left her in tears and feeling "completely powerless".
In a series of Twitter posts, she describes sharing a lift with Weinstein after he invited her to his room to show her a script.
"I'm not interested in anything other than work, please don't think I got in here with you for any other reason," she recalls telling him.
Headey says the Hollywood mogul was "furious" and walked her back to the lift, holding her "tightly" by the arm. She goes on to say he told her not to tell anyone about their alleged encounter.

Lysette Anthony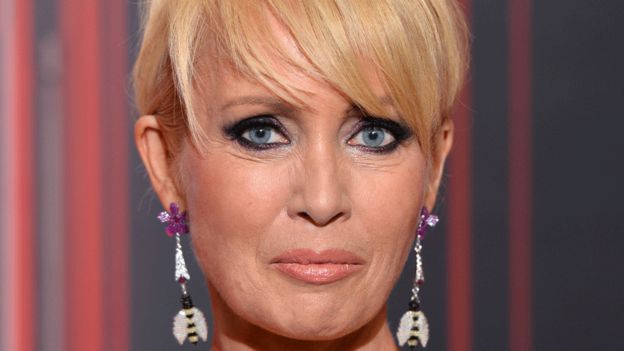 British actress Lysette Anthony says he attacked her at her London home in the late 1980s.
Lysette Anthony told The Sunday Times she had reported an attack by Weinstein to the Metropolitan Police in London.
The actress, who stars in the British TV soap Hollyoaks, says she met the producer when she starred in 1982 sci-fi film Krull and the alleged assault came a few years later.
It was a "pathetic, revolting" attack, she says, that left her "disgusted and embarrassed".
The Metropolitan Police said it had been passed an allegation of sexual assault but did not give details.

Kate Beckinsale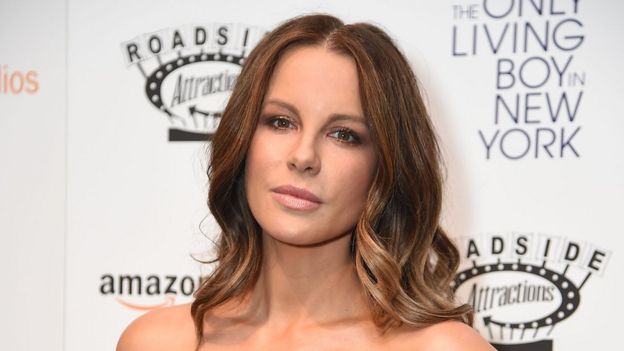 The actress says she was first called to meet Harvey Weinstein at the Savoy Hotel when she was 17.
She was surprised to be sent to hotel room not a meeting room, where he greeted her in his bathrobe.
"I was incredibly naive and young and it did not cross my mind that this older, unattractive man would expect me to have any sexual interest in him.
"After declining alcohol and announcing that I had school in the morning I left, uneasy but unscathed. A few years later he asked me if he had tried anything with me in that first meeting. I realised he couldn't remember if he had assaulted me or not."
She says she said "no to him professionally many times over the years" which she says "undoubtedly harmed my career and was never something I felt supported by anyone other than my family".

Cara Delevingne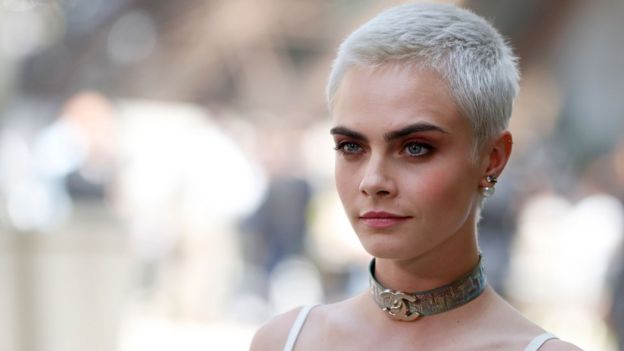 In an Instagram post, Delevingne writes how uncomfortable she felt during an encounter with Weinstein in a hotel room and describes what allegedly happened when she told him she wanted to leave.
"He walked me to the door and stood in front of it and tried to kiss me on the lips. I stopped him and managed to get out of the room," she says.
"I still got the part for the film and always thought that he gave it to me because of what happened. Since then I felt awful that I did the movie. I felt like I didn't deserve the part. I was so hesitant about speaking out. I didn't want to hurt his family."

Lea Seydoux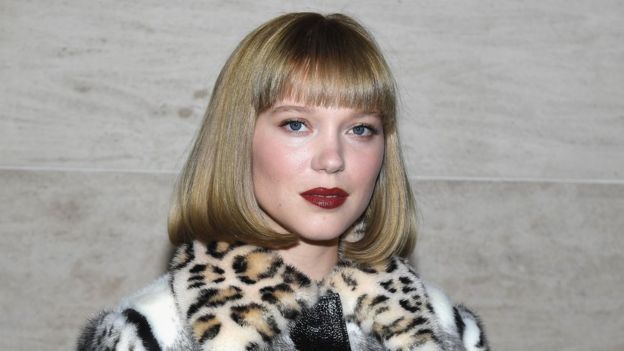 The French actress Lea Seydoux has written an article detailing her experience with Weinstein who she met at a fashion show.
She wrote in The Guardian about how he had invited her to come to his hotel room for a drink.
"We were talking on the sofa when he suddenly jumped on me and tried to kiss me.
"I had to defend myself. He's big and fat, so I had to be forceful to resist him. I left his room, thoroughly disgusted.
"I wasn't afraid of him, though. Because I knew what kind of man he was all along."

Gwyneth Paltrow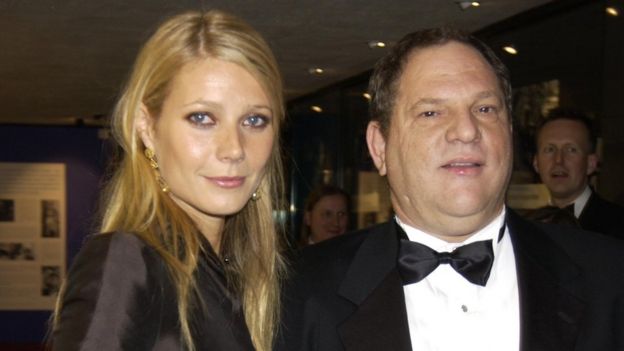 In a statement to the New York Times, Paltrow says after Weinstein cast her in the leading role of Jane Austen adaptation Emma in 1996, she was summoned to his hotel suite.
It was here that she says, as a 22-year-old, he placed his hands on her and suggested massages.
"I was a kid, I was signed up, I was petrified," she told the newspaper.
She says she told her then-boyfriend Brad Pitt about the incident, who confronted the producer.
"I thought he [Weinstein] was going to fire me," she says.

Angelina Jolie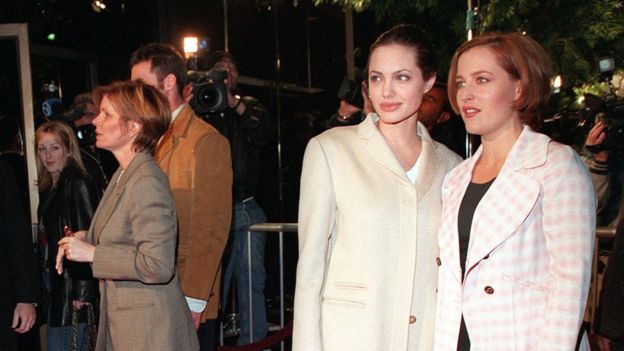 Jolie says she was propositioned by Weinstein in a hotel room during the release of Playing by Heart in 1998.
Jolie says in an email to the New York Times: "I had a bad experience with Harvey Weinstein in my youth, and as a result, chose never to work with him again and warn others when they did.
"This behaviour towards women in any field, any country is unacceptable."

Ashley Judd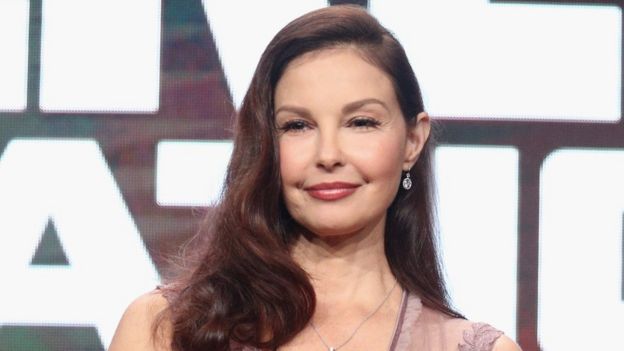 Ashley Judd told the New York Times she had been invited to meet Weinstein at a hotel for what she expected to be a business breakfast meeting.
Instead, she says he had her sent up to his room where he appeared in a bathrobe and asked if he could give her a massage. She adds that when she refused, he asked her if she could watch him shower.
"I said no, a lot of ways, a lot of times, and he always came back at me with some new ask," she says. "It was all this bargaining, this coercive bargaining."

Rose McGowan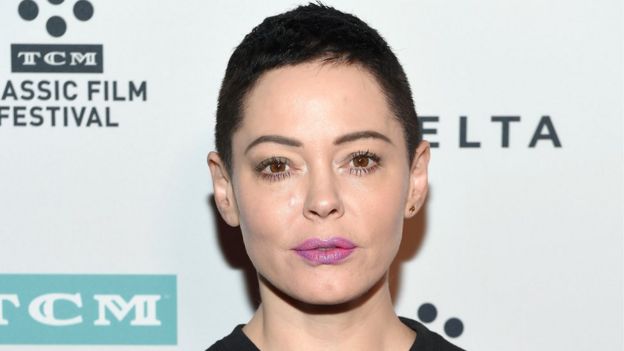 The New York Times reports that in 1997 Weinstein reached "a previously undisclosed settlement with Rose McGowan" after an alleged episode in a hotel room during the Sundance Film Festival.
The $100,000 (£84,000) settlement was "not to be construed as an admission" by the movie producer, but intended to "avoid litigation and buy peace," according to the legal document, which was reviewed by The Times.
At the time McGowan was 23 and had just appeared in Scream.
In an interview with the Hollywood Reporter she called on the Weinstein board to resign immediately, asking "for other men to stop other men when they are being disgusting".
"Men in Hollywood need to change ASAP," she said. "Hollywood's power is dying because society has changed and grown, and yet Hollywood male behaviour has not."
She has now publicly accused Weinstein of raping her. He has denied all allegations of non-consensual sex.

Heather Graham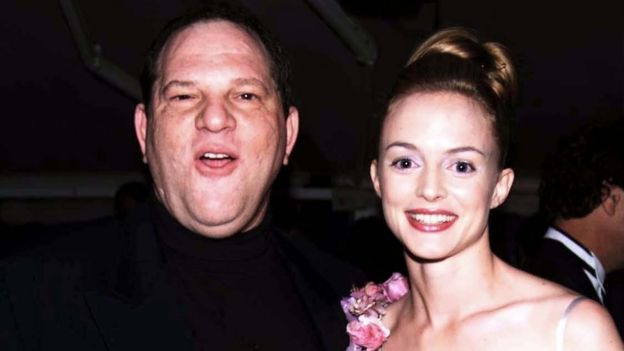 The Boogie Nights actress told Variety she was once propositioned by Weinstein in the early 2000s when she met him to discuss being cast in one of his movies.
She alleges he tried to force himself on her and told her his wife would have been fine with it.
"He could sleep with whomever he wanted when he was out of town. I walked out of the meeting feeling uneasy.
"There was no explicit mention that to star in one of those films I had to sleep with him, but the subtext was there."

Zoe Brock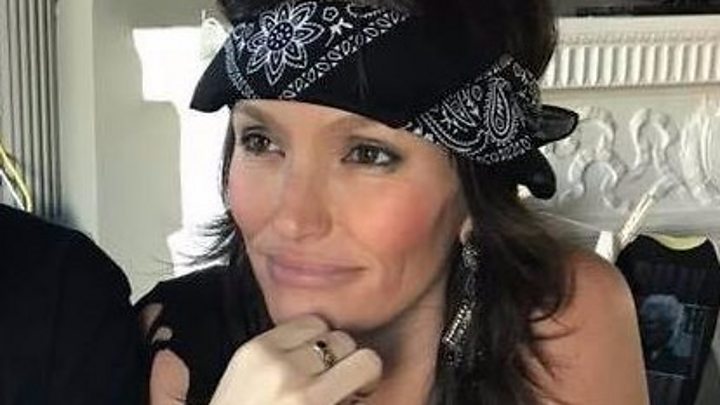 Model and actress Zoe Brock says she was brought back to Weinstein's hotel room under false pretences in the south of France in 1997.
He emerged naked from another part of the suite and asked for a massage, she told BBC Radio 4's Today programme.
"I did not want to do that and he asked if he could give me a massage… I didn't know what to do and I felt that letting him maybe touch me a little bit might placate him enough to get me out of there somehow."
Before long, she "bolted" into the bathroom. He banged on the door with his fists before eventually retreating, putting on a dressing gown and starting to cry.

Asia Argento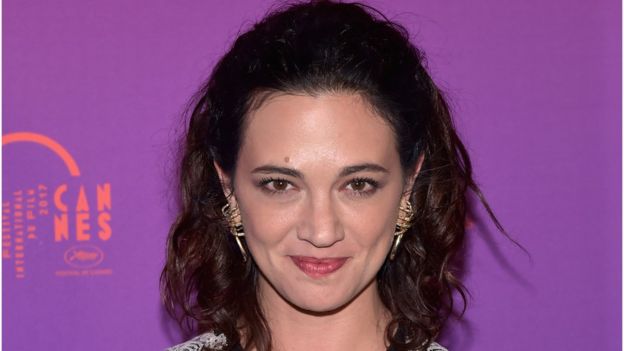 Italian actress and director Asia Argento's first dealing with Weinstein's company Miramax was when she appeared in their crime drama B Monkey.
She says she was left alone with him in a hotel room on the French Riviera after being told she was going to a Miramax party.
Argento says she reluctantly agreed to give him a massage but he then raped her.
Weinstein "terrified me, and he was so big", she said. "It wouldn't stop. It was a nightmare."
"I know he has crushed a lot of people before. That's why this story – in my case, it's 20 years old, some of them are old – has never come out."
Argento has not spoken out until now, saying she feared it would ruin her career to do so.

Lucia Stoller
Stoller, now called Lucia Evans, encountered Weinstein in 2004 in a New York club when she was an aspiring actress.
She says she was forced into a sexual act by the producer after going to his office for a casting meeting.
"The type of control he exerted, it was very real," she told The New Yorker. "Even just his presence was intimidating."

Mira Sorvino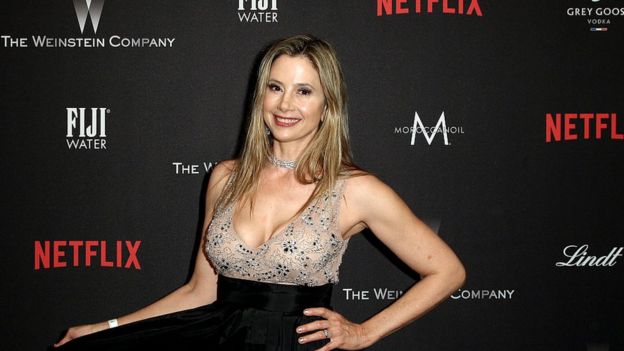 Mira Sorvino appeared in several of Weinstein's films and told The New Yorker he had sexually harassed her and tried to pressure her into having a physical relationship.
She was in a hotel room with him at the Toronto International Film Festival in 1995 while promoting Mighty Aphrodite, for which she later won an Oscar.
"He started massaging my shoulders, which made me very uncomfortable, and then tried to get more physical, sort of chasing me around."
Weeks later, she alleges he turned up to her apartment under the guise of having marketing ideas for the film.
"I opened the door terrified, brandishing my 20-pound Chihuahua mix in front of me, as though that would do any good."
She told Weinstein her new boyfriend was on the way round, after which he apparently became dejected and left.

Louisette Geiss
The actress and producer came forward to say she was attacked by Weinstein at the Sundance Film Festival in 2008.
He invited her to his office in a hotel for a meeting about a script she had written.
Half an hour into the meeting, he went to the bathroom and emerged wearing only a robe that was open at the front.
She says he insisted on continuing to listen to her pitch in his hot tub, then asked her to watch him masturbate. When she told him she was leaving, he grabbed her arm, pulled her into the bathroom and told her he could green-light her script – if she watched him.
"I was on the verge of tears but I pulled it together and quickly exited," she said.

Rosanna Arquette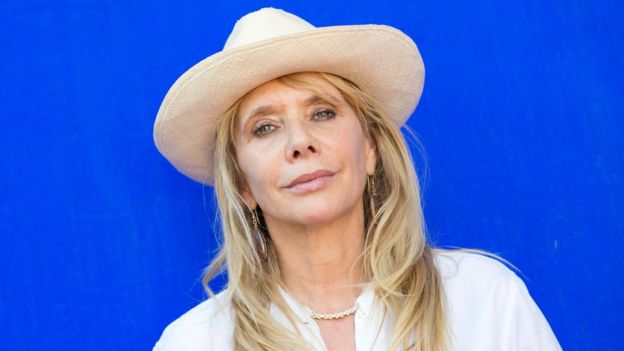 The actress says she rejected Weinstein's advances and that she believes her acting career suffered as a result.
She told the New York Times in the early 1990s Weinstein had asked her to stop by the Beverly Hills Hotel to pick up a script for a role.
She was directed to his room where he was in a bathrobe and asked her for a massage.
When she refused she says he grabbed her hand and pulled it toward his crotch.

More voices
The first allegations made against Weinstein in the New York Times article were mainly from young women hoping to break into the film industry as well as the actresses Ashley Judd and Rose McGowan.
Model Ambra Battilana Gutierrez has also said she was groped by Weinstein and later went to New York police, in 2015, saying the producer assaulted her. She then met Weinstein wearing a wire, and an excerpt of that recording was published in the New Yorker.
Other women who have come forward since then with their stories about Weinstein include French actresses Florence Darel, Judith Godreche and Emma de Caunes.
US actresses Jessica Barth, Katherine Kendall and aspiring actresses Dawn Denning, who is now a costume designer, Tomi-Ann Roberts, who is now a psychology professor, have also gone on the record with their accounts.
TV anchor Lauren Sivan alleges Weinstein cornered her in an empty basement area of a New York restaurant in 2007 and masturbated in front of her.
And other workers at the Weinstein film company told the New Yorker about their experiences, including Emily Nestor who was a temporary front desk assistant who said she had had to refuse his advances "at least a dozen times".
Actress Claire Forlani has said that "nothing happened" between her and Weinstein – but only because she "escaped five times".
"All I remember was I ducked, dived and ultimately got out of there without getting slobbered over," she wrote on Twitter. "Well, just a bit."
She said that massage had been "suggested" and that Weinstein had told her "all the actresses who had slept with him and what he had done for them".
In an interview with Canadian TV, actress Lauren Holly said the producer had showered and used the toilet in front of her after inviting her to his hotel room in the late 1990s.
Holly then says Weinstein approached her naked and requested a massage, at which point she "pushed him and ran".
Lisa Rose, a former office assistant with Weinstein's Miramax story, told the BBCshe had been warned about her employer before she started working for him.
Rose remembered being in a room alone with him and feeling "really frightened". "He didn't touch me," she said. "He said nasty things but he didn't touch me."
Zelda Perkins, a British former assistant of Harvey Weinstein, says she was paid £125,000 ($165,200) to keep quiet after accusing the movie mogul of sexual harassment.
She told the Financial Times she signed a non-disclosure agreement in 1998 after making the accusations.
Perkins said he asked her to give him massages and tried to pull her into bed, but she "was made to feel ashamed for disclosing his behaviour".

Weinstein's spokeswoman Sallie Hofmeister issued a statement on 10 October in response to the allegations of sexual harassment and assault.
"Any allegations of non-consensual sex are unequivocally denied by Mr Weinstein," she said. "Mr Weinstein has further confirmed that there were never any acts of retaliation against any women for refusing his advances.
"Mr Weinstein obviously can't speak to anonymous allegations, but with respect to any women who have made allegations on the record, Mr Weinstein believes that all of these relationships were consensual. Mr Weinstein has begun counselling, has listened to the community and is pursuing a better path."
Category: International